I just completed a week long ride from Fairfield, IA to Asheville, NC. We mostly camped. We hit 4 National Forests, 2 National Parks, road the Tail of the Dragon, and drank with as many locals as we could find. This is the recap of our trip.
I rode with a mate named Jesse. He has been riding for over a decade but this was his first long multi-night camping and riding trip. He deciding on riding his Suzuki DR 650. Not quite as comfortable as my 800gs but he felt comfortable with the bike and dealing with any issues that may arise.
Day 1 – Fairfield, IA to Shawnee National Forest
We planned to meet at 8am at a gas station near the on ramp of our first highway. As Jesse came rumbling up to the station, I saw his left side rear panel fly off his bike and skip down the road. He was all smiles ready to roll. I ran over and collected his panel and he had a back up bolt to re-secure it. An inauspicious start to our journey. We haven't even left and bike parts are flying into the road.
Gassed up, we head out. We have an uneventful trip down to St. Louis where we planned to stop for lunch at Bogart's Smokehouse. I seriously over eat. The brisket was sensational.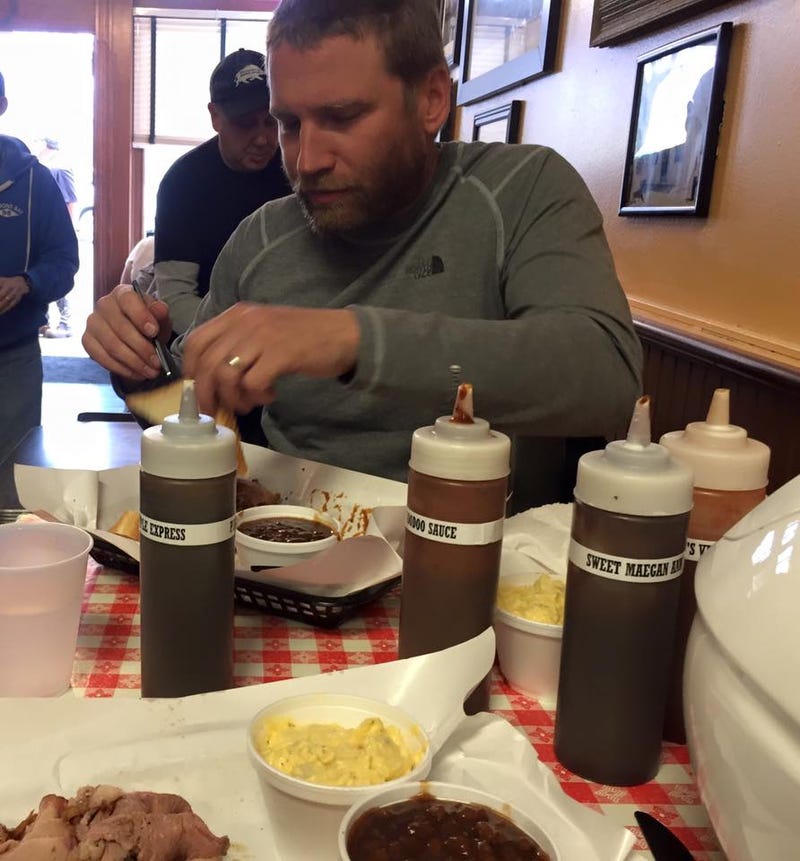 Bellies full, we get back on the bikes and head back to our route. Except we have no on ramp. It just doesn't exist. We are underneath the HWY we want to be on, but we can't get on it. We ride further downtown but google maps are being very confusing and we can't seem to make sense of our predicament. Turns out most of downtown St. Louis was shut down for their St. Patrick's Day Parade and we keep being rerouted by google. We ride around downtown St. Louis for over an hour before we catch the HWY out of town and down to Shawnee. Once we arrive, we are drenched. We road in rain most of the afternoon and it looks like we will be camping in rain that night. It's too wet for a fire so we make a quick dinner and settle by the picnic table around a flashlight lantern and drink a few coldies.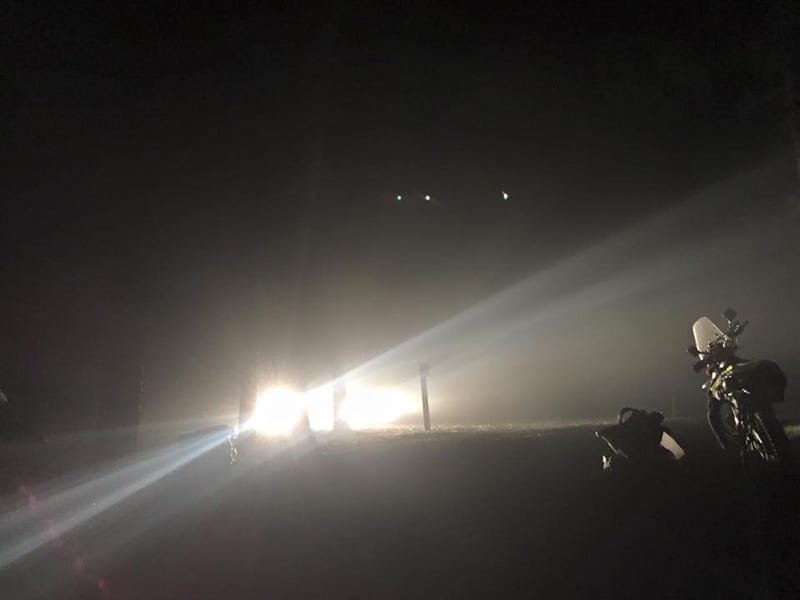 Day 2 – Shawnee National Forest to Mammoth Cave National Park
It is still very wet when we get up. We have coffee and dry out the best we can. We pack up and head over to the trail head to view the Garden of the Gods area of Shawnee National Forest. It does not disappoint. We are immersed in cloud cover and it really brings a timeless feeling to the area.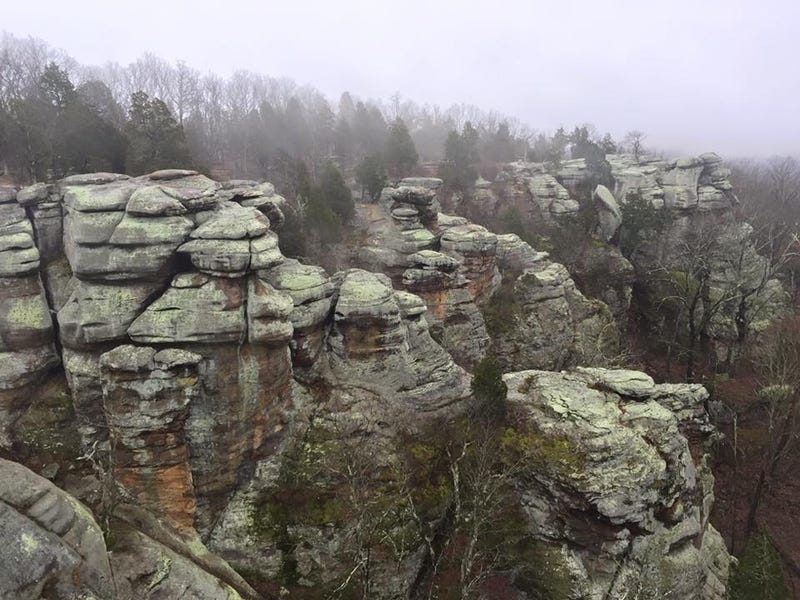 We pressed on towards Mammoth National Park near Bowling Green, KY. We rode in rain at times but arrived with sunshine about 3pm. We had a nice afternoon hitting a grocery store and just relaxing at the campsite. Jesse scored a few shower tokens that we badly needed to warm up. We had our first fire of the trip and tried our best to dry out our gear on clotheslines and by the fire. I burnt a pair of perfectly good socks by leaving them too close to the fire. It rained that night as we slept. Jesse's boots sat propped against the side of the fire ring for hours.
Day 3 – Mammoth Cave to Asheville, NC
The plan was to do the 9am cave tour, be on the road by 11am and get to Asheville by 4pm. We took the cave tour at Mammoth. I have taken several cave tours. They are stupid and lame. I swear I will never take one again but I am sure I will. Caves are cool but the tours are not. What is it about people who give cave tours and terrible jokes? I had forgotten about daylight savings time change and neglected to account for the time change from Central to Eastern. Two hours suddenly gone. We also got a late start because of all the rain.
We left Mammoth around 12:30pm. Looking like we will now be in Asheville about 6pm. We ride and the weather is cooperating. Then in Eastern Kentucky the rain comes. It dumps on us. Rain so hard it becomes unsafe to ride. No visibility through the visor and cars certainly can't see us with all the spray they are kicking up. The water is really building up on the road and hydroplaning is a very real possibility. We pull off under a bridge to reset our bearings. Drenched. We have waterproof gear but the rain was so fierce that it found ways around the gear. Sneaking in between pants and jackets, up sleeves, and down our collars. My boots filled with water on the inside.
Like the experienced rider that I am, I opted not to wear my rain pants today. Instead hoping if I just get a little wet the ride will dry out my pants. Huge error. I am soaked to the bone. I see on the GPS that we are about 3 miles from an exit. We press on and have lunch at a Burger King. We eat and sip coffee. We track the storm on our phones and my riding suit floods our corner of the restaurant. We wait for about an hour and a half for the storm to get ahead of us. We ride slowly and in fair weather, but eventually hit it again. We stop for gas and wait. By the time we hit North Carolina, it is very dark and the roads are very wet. We are riding fast to end the misery. Hard to arrive in a beautiful place like the Blue Ridge Mountains and only focus on the road lines and glaring car lights around you. We pull into our friends place about 8:30pm. They greet us with smiles and they start making dinner. We eat and talk into the night. Smiles are abundant.
Day 4
We wake at a comfortable hour and plan to take a hike in the Pisgah National Forest. We load up the crew and pack lunch. We have a great day hiking near waterfalls. We eat lunch on the rocks and swim in the freezing waters.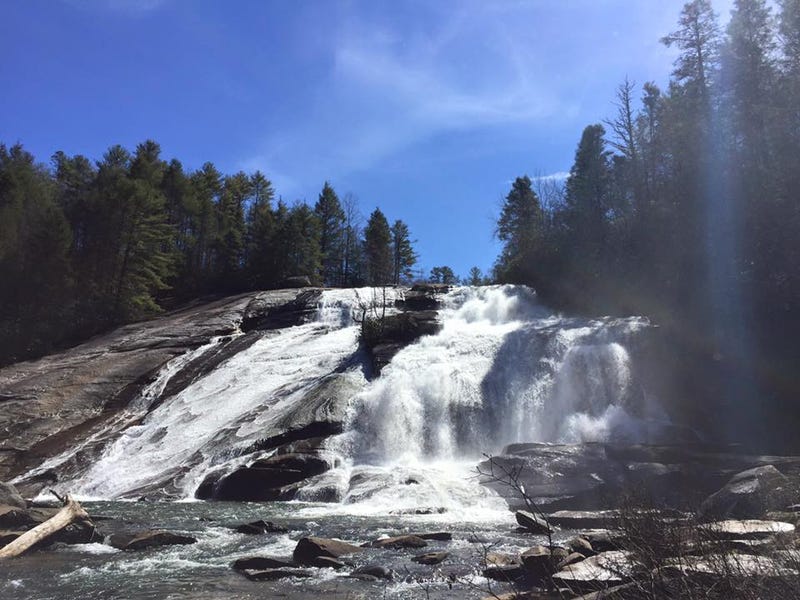 Later that night we hit the town – drinks and dinner around downtown Asheville. It'd a great place to spend a few days, but these people make every place special.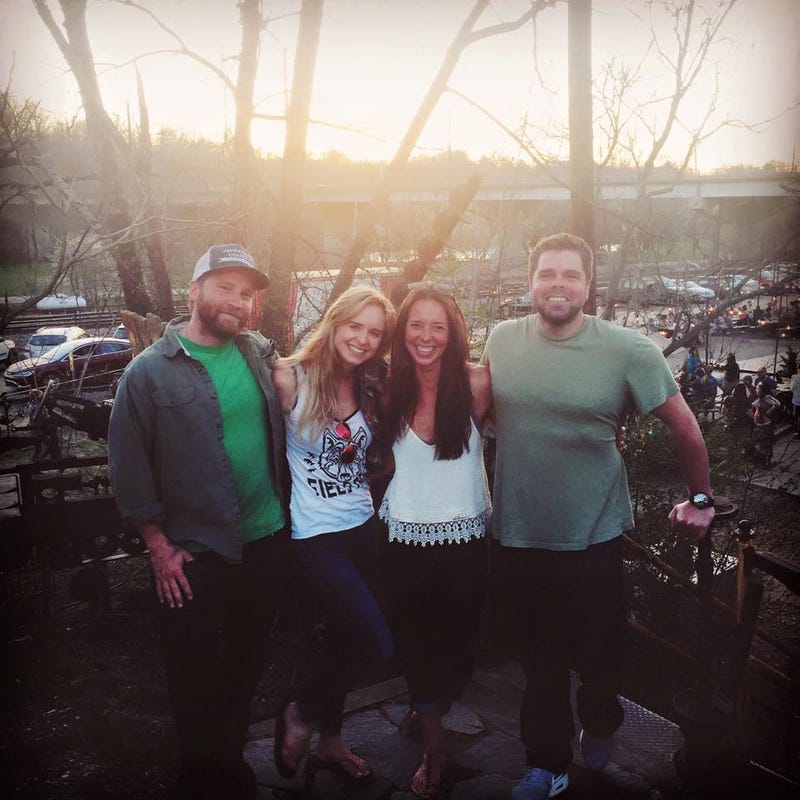 Day 5
We walk a river trail and spend the day outdoors. I met up with an old girlfriend and caught up on each others lives. Later, Jesse cooked dinner for everyone and we spend the night by the fire talking and laughing.
Day – 6 Asheville to Daniel Boone National Forest
We eat breakfast and pack up. We hit the road after some warm goodbyes. Our plan to head south and ride one of the most famous motorcycle roads in the US, The Tail of the Dragon.
I was surprised how physical the riding was. 319 turns in 11 miles. I have ridden a few other prolific motorcycle roads, Needles in SD and The Million Dollar HWY in CO, but this trumps them both. The Dragon has so much to offer and it just goes on and on.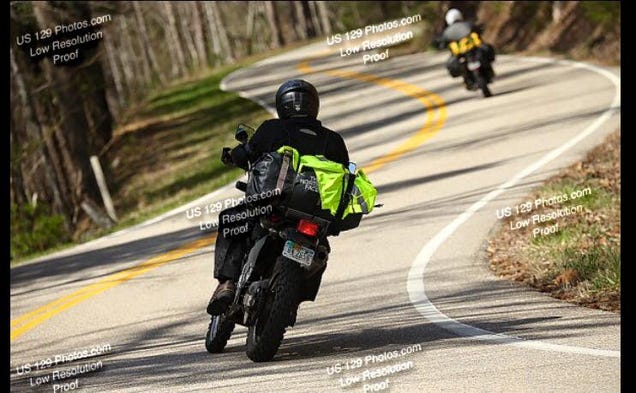 After the Dragon, we pressed North to Daniel Boone National Forest in Eastern Kentucky. With little experience in the area, I blew it on our camping location. Now that I have been there I would have done things very differently. I thought camping on the SW corner of the Forest would get us a great start the next day. It took us an extra hour to get to our campsite but we did manage some nice gravel riding along a crystal clear river. However, the next morning I found I could have saved us an hour this day and an hour the next if I had picked a campsite closer to the hwy. We also would have been closer to the natural arches. Bummer, but I'll be better prepared for next time I pass through this area.
It was a cold night in these hills. Our camping neighbors were a hardy bunch and were kind enough to offer us some deer meat and ever-clear. They were mostly fireman on a fly fishing trip. If you ever wanted to know how to really get a fire going in wet conditions, the fireman brought a leaf blower and just pointed it at the fire for twenty minutes and it REALLY gets it going. We didn't realize our campsite was going to be so remote and were about 30 minutes from a gas station. We had no food or beer. Jesse saved the day and rode the hour round trip to pick up some mixers and dinner. I was too beat to ride any more. I stayed and got a fire going. The night was much colder than we expected. We had a fire but it was weak. Wouldn't burn if we weren't tending to it regularly. It didn't last after we went to sleep.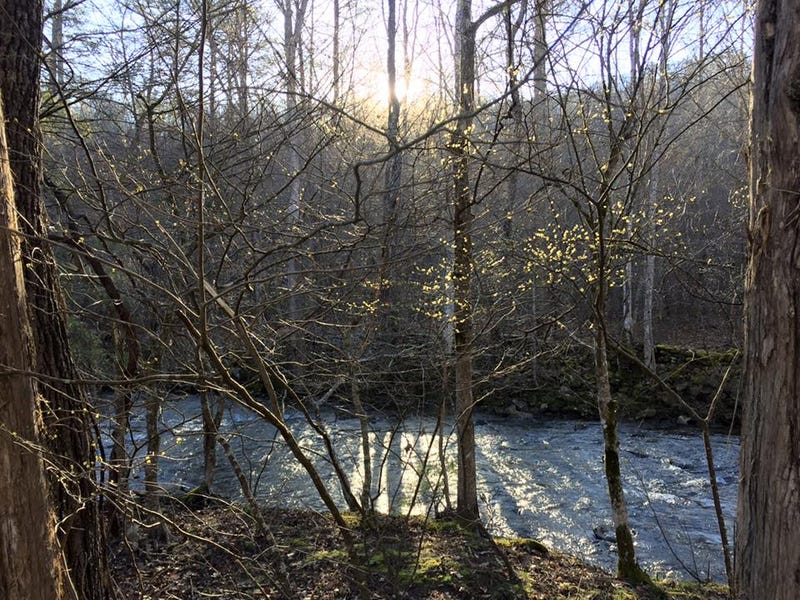 Day 6 -Daniel Boone to Shawnee National Forest
It was a cold morning. Once I turned my bike on it read 37 degrees. We didn't see the sun until 10am because we were camping in a valley. Once the sun came up over the mountain, we were able to get going and thaw out a bit. We rode to Shawnee but it was a long day. We were starting to wear down physically from all the rain and cold. We found a campsite and headed to a local bar for a drink and some dinner. We had a great time and met some terrific people at The Gap in Herod, IL. We were also able to get a sizable amount of firewood here that was delivered to our campsite. We had a ripper of a fire that night and even though it rained on us we were warm and happy.
Day 7 – Shawnee to Fairfield
We returned home with a most uneventful ride. We had a few issues with Jesse's starter but with so much rain it was not surprising. The Suzi had done remarkably well for the trip. Jesse did have a funny instance when he pulled up to a gas stop and his luggage tried to abandon the trip. The luggage rack had just had enough. One of the bolts had jumped ship somewhere along the highway but the rack had stayed in place. Once he pulled up to a stop it just kind of swung itself over and his entire bag set up and rack were hanging over the side of the bike. He was struggling to hold the bike up. Honestly, I couldn't help but laugh as I rushed over to help him right the luggage and the bike. The rack was bent but still functional. Jesse whipped out a bolt and a few zip ties and we were back on the road.
It was extremely cold for the final three hours of the trip. Temps dipped to the mid 30s. We hit snow flurries as we approached the Iowa boarder. Our trip had been projected to be in the high 50's and 60's so we didn't have the gear for the mid 30's. My bikes temperature gauge was flashing to warn me that it was cold enough for the roads to become icy as it hit 36.8 degrees. It was a challenge, but we made it.
We were home by 6pm and ready to plan the next trip.
https://dirtorcas.com/wp-content/uploads/2016/07/gs800-southern-il-dirtorcas.jpg
600
800
Dirt Orcas
https://dirtorcas.com/wp-content/uploads/2016/07/dirt-orca-logo-150-white.png
Dirt Orcas
2016-07-29 20:34:55
2017-02-27 16:28:09
The Soggy Throttle 2000