My Review of the 2015 BMW f800r
I had a chance to spend a few days romping around on the 2015 BMW f800r. Over four days I rode a mix of city streets, country roads, interstate highway, and thanks to an unexpected bridge collapse, about 15 miles of loose gravel.
The first two things that struck me about the bike were both negative. I do not find the sharp triangular action of the tank panels appealing. It seems like BMW made a concentrated effort to add more triangular lines to all their 2015 models. A move away from the traditional classically rounded edges like the ever beautiful 2007 R1200r. Once I started the bike, it sounded a little bit cheap and plastic-y. It had 1 mile on the clock when I received it. The liquid-cooled four-valve twin-cylinder engine initially sounded weak, but after a few hundred miles of riding, it started to produce a deeper growl and more confident hum. The sound either improved as it was broken in or I got used to it and grew to like it more.
After clocking about 300+ miles in these 4 days, I was most surprised by this bikes ability on gravel. It felt rooted and well balanced on the uneven gravel road. The bikes low center of gravity (achieved from the under-seat tank placement) and responsive ABS breaking system gave me a lot more confidence than I was anticipating on loose terrain.
Here is how I'd score the bike. 1 being terrible. 10 being amazing
The Look = 5 I'm not crazy about the pointy fairings and less than quality tank plastics. But, the forks are attractive and the overall stance of the bike gives you the impression it will be a fun ride once you are behind the bars. While parts of the design are eye catching, more than anything you are left with a bike that feels like BMW cut a few too many corners with the quality of its main console and tank/fairing.
The Feel = 7 This bike has a comfortable riding position and is a joy to maneuver. The seat distributed my weight well and offered a fair amount of comfort over multiple hours in the saddle. The foot pegs are narrow and even with riding boots, created a good deal of vibration. Ergonomically the bike works well for man of my size (5' 11" and 190lbs). The controls and levers are easy to utilize your first time around the block. The handlebars are wide and the grips comfortably placed. I didn't sense much vibration in my hands at all.
The Power = 6 The 800cc parallel twin-cylinder engine gives you confidence once you hit 50/60 MPH range, but the engine is a bit sluggish off the line from full stop. The gearing set up makes 6th gear (70-100 MPH) a long acceleration. You better make sure you're in the correct gear if you want to get the maximum performance out of this bike. On many other bikes I have ridden, you can simply lay on the accelerator and quickly get to the power you need. Not on this model. It keeps you on your toes.
The Agility = 8 The best feature of this bike. It's nimble and extremely well balanced. It always feels like there is more room to accelerate while laying into turns.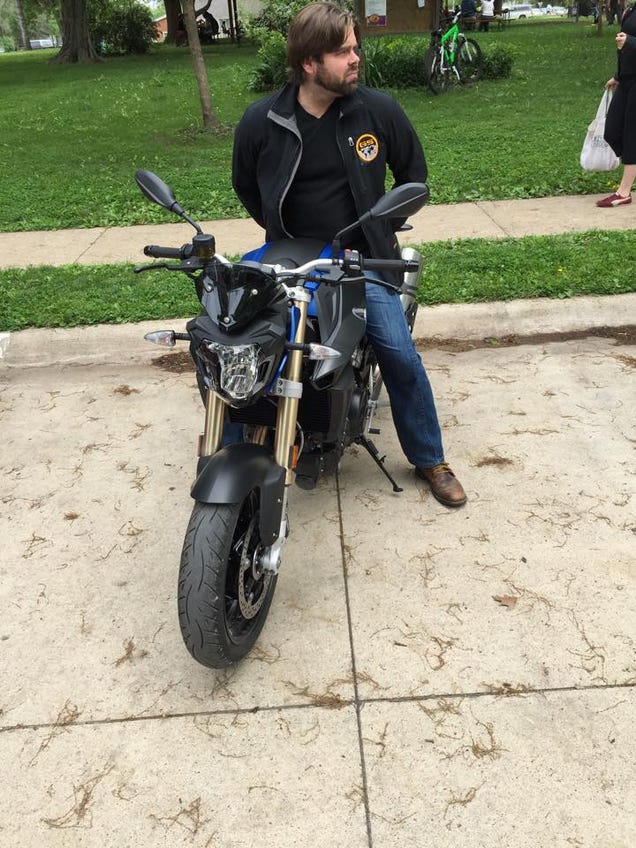 The Overall = 6.5 of of 10 The engine is about what you'd expect. With 798cc's and 90HP, it offers occasional power in the right RPM range, but nothing that feels special. The handling is wonderful and you can attack turns and still find power during the turn. At around 70mpg's you can do a lot worse for a fun ride around town. With some very small modification this bike has ability to do a bit of touring as well. Set up right out of the store I would feel very comfortable logging 6+ hour days on this bike. If your plan is to ride solo for a long weekend and you want to hit a mix of state highways and city roads, this bike would suit your needs well. It is priced at around $10,500 for a new model. Which means, you can certainly do better from the performance to price ratio standpoint. Yet, if you are looking to get a entry level BMW, this is the ticket. The 2015 BMW f800r is a great starter bike with excellent fuel economy, the BMW reputation and style, and a motorcycle that will give you the option to get out and see a bit more than your own backyard.
https://dirtorcas.com/wp-content/uploads/2016/08/bmw-f800r-2016.jpg
600
800
Dirt Orcas
https://dirtorcas.com/wp-content/uploads/2016/07/dirt-orca-logo-150-white.png
Dirt Orcas
2016-08-01 16:06:52
2016-08-05 15:09:25
My Review of the 2015 BMW f800r