My friend Eric and I took a few BMW Boxers on a 3100 mile road trip, to camp and explore some of our countries best lands and parks. His bike is a BMW from 1976. Mine is a BMW from 2005. Much has changed with the bikes during that time but much has also stayed the same.
Here is my trip log from the 11 day ride beginning Fairfield, IA to Glacier National Park (Almost).
Fairfield to Stone State Park.
Day 1 was pleasant riding. We left about 12;45pm. Eric's 1976 BMW R90/6 kept pace well. This was his first multi day bike trip and first trip at all on this bike. At our first gas stop his bike wouldn't start. Tenuous moments as he quickly conducted a Google search for common issues. The tank came off. Several dubious characters offered to help. The kid inside the gas station fixed the carb issue with scissors after we bump started it. Seemed to be running alright so we strapped on the helmets.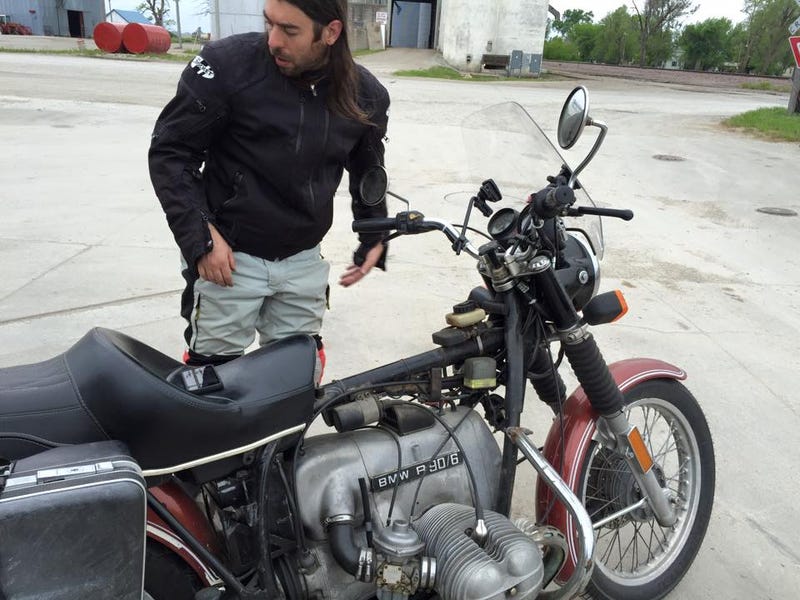 We pressed on and arrived at Stone State Park near the Loess Hills in Northwest Iowa. Our destination for the evening came at the right time. The park has a pleasant road in, a nice campground, and wildlife scattered around like they are part of the family. We ate camp meals and sucked down a few beers. It rained gently most of the night.
Day 2 – Stone State Park to Badlands NP.
Rained all night and that slowed us down packing up in the morning. Rained all day as we rode. Very wet. Eric's bike issue's continued but we are trouble shooting and pressing on. Lunch at Marlins in Mitchell SD. Highly recommend this spot if you are travelling Interstate 90 by motorcycle in the rain. Lots of hot coffee and the staff was welcoming to a drenched rider. Landed in Badlands National Park to more rain. Yet still a relaxing afternoon and evening.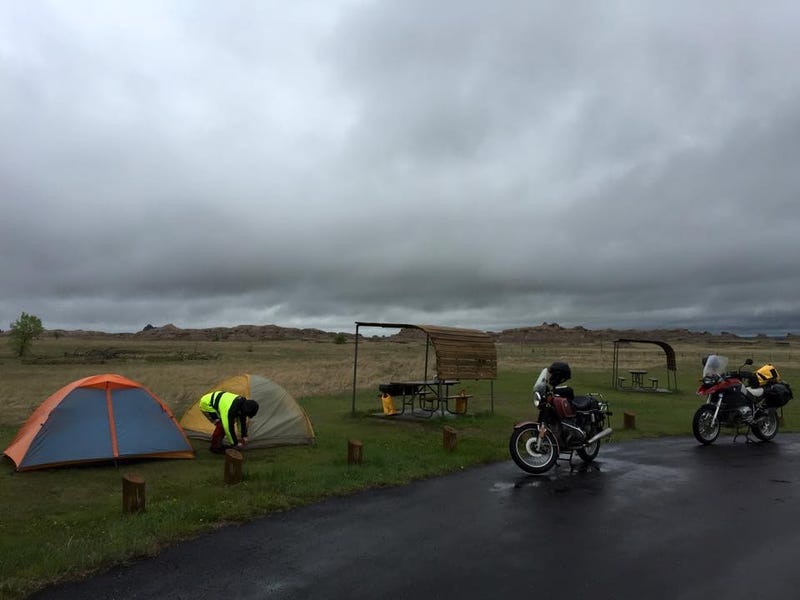 The thing about rain is that it eventually creates rainbows.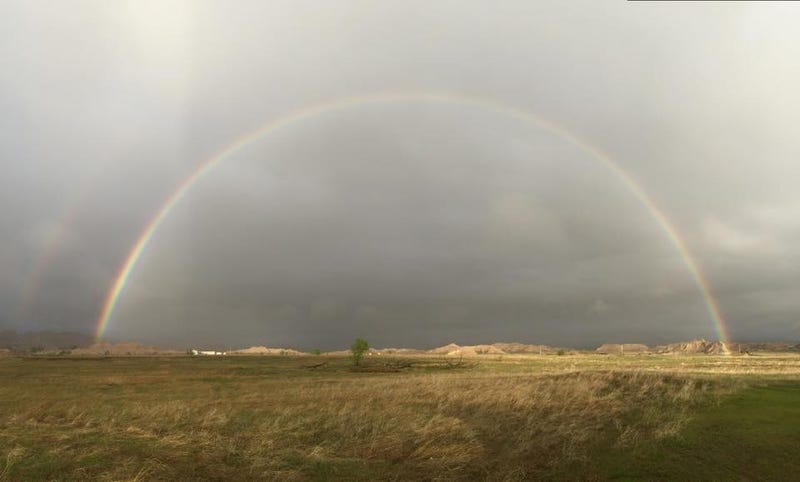 Day 3. Badlands to Buffalo, WY
We took our time riding and hiking around Badlands NP in the morning. Beautiful landscape but the heavy rains limited how much hiking we could do. Riding was great. More rain as we are heading for Billings, MT today. About three and a half hours into our longest day of the trip. Eric's bike hit a wall. He was limping along and couldn't hit speeds of 55mph. Dangerous for us to be on the 80mph highway. Also frustrating. We landed in Buffalo, WY and decided to get a hotel for the night. Have a nice meal, get drunk, and diagnose his bike issues in the morning.
Day 4. Buffalo, WY to Deadmans Oasis, MT
We begin the day 2.5 hours short of Billings and out of range of making it to Glacier National Park as planned. I grab some coffee and head out to the parking lot to find Eric. Both head gaskets are off the bike and he is madly making phone calls and googling questions on his phone.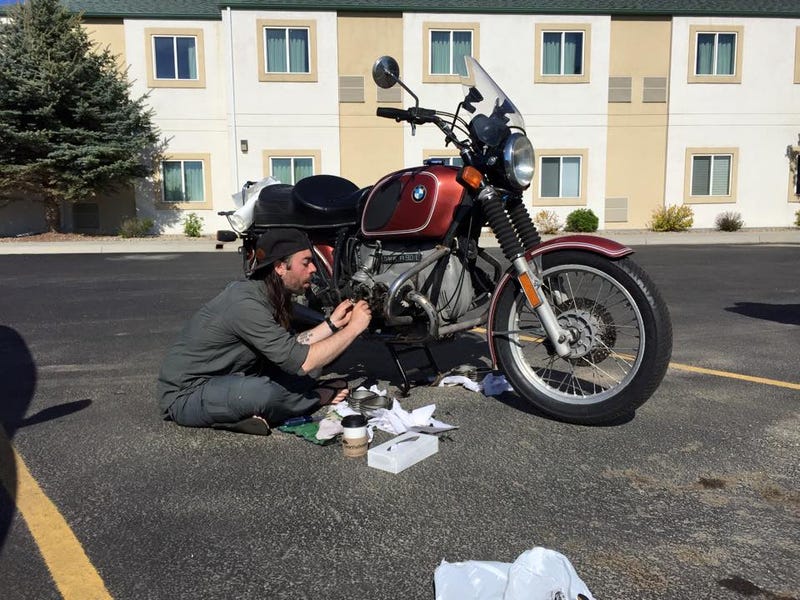 The hotels wireless service is clutch. After several checks and ruling things out, the culprit seems to be a torn diaphragm in the right carb. We deliberate our options. His bike is unsafe on the hwy and we are hours from repair shops. Even then we would have to overnight the part where ever we wind up. We weigh getting a Uhaul and Eric going home or continuing to Glacier with his bike in the Uhaul. The choice is made for us. Too expensive to really consider either option. Eric opts to stay in Buffalo and has the part shipped to him to try and repair himself. After much discussion, we agree I should press on to Glacier and will reunite with Eric in two days when his bike is fixed. I am somewhat grateful. I am frustrated with all the bike failures and how slow our travel it has been. I am excited to get back on the road and head into Montana. I am excited to move at normal hwy speeds where my bike can really excel. We have a nice lunch and then I depart. It's a good but rainy ride and I end up making camp about 7 pm in Deadmans Oasis State Park in Central MT. It took me some time to find the campsites. GPS took me to the parks western edge and there are no signs there.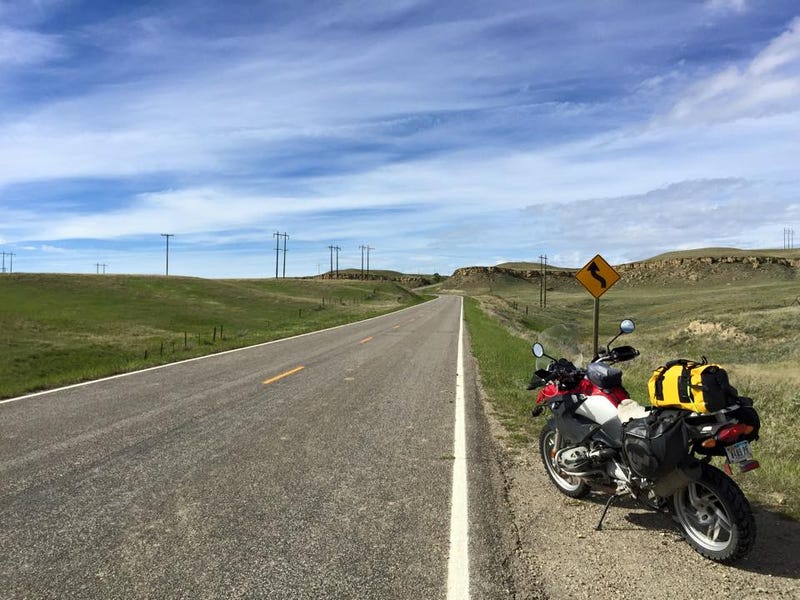 I finally settle down. 5.5 hours to Glacier. However, shortly after finding a campsite out of the high winds, I am overcome with guilt. Even though he agreed I should press on. I am so focused on the task of getting to our destination that I feel I have forgotten the important things.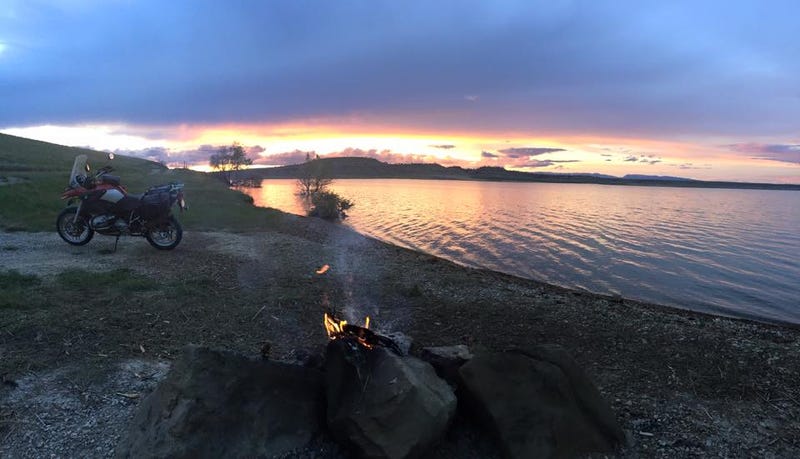 Doing this trip with my friend was and should be the point. The point was not to arrive at our planned destination by any means necessary. I am undecided about where I will go tomorrow. On to Glacier or back to Buffalo to sit in a hotel and maybe watch Eric rent a Uhaul and load his bike up to drive home, leaving me a day back from where I came and further from Glacier than where I am now. I discover that I have one beer with me. Buried at the bottom of my dry bag. I place it in the lake to chill, as I wander the roads for cell service. Nothing. I make fire and watch the unspeakably beautiful sunset. I feel as though I am at a crossroads of sorts. I am alone. Alone but also pressing on to complete the trip as intended. I am also guilt ridden. I feel I could not do anything to help the situation, but that somehow I should have supported my friend. I watch a few pronghorns bed down for the night about three hundred yards away. I return for my beer – It's colder, but as I press it back into the sand on the lakes edge, I puncture the side of the can and am forced to shotgun the sucker. I had higher hopes for the evening and the day. I am tired and sore but life is still good. The gratitude for nature and health and family and friends and the good fortune to afford a motorcycle that doesn't breakdown everyday takes hold. I rest easy, even with a lot on my mind.
Day 5 Deadman's Oasis, MT to Buffalo, WY to Devils Tower, WY
After a long nights sleep I got a late start. I swam in the lake, which was ice cold. I took my time packing up camp but had already decided that returning to WY to help Eric was the right thing to do. Glacier would have to wait. Just 5.5 hours away, but after doing the math it would be three nights and four days till I saw Eric again. I couldn't strand him that long. I departed back to Buffalo. Along the way I did take the time to visit the battlefield of Little Big Horn. A beautiful place for such a terrible event. I spent about an hour taking in the grounds and the significance. I bought some gifts for friends and family and then pressed on.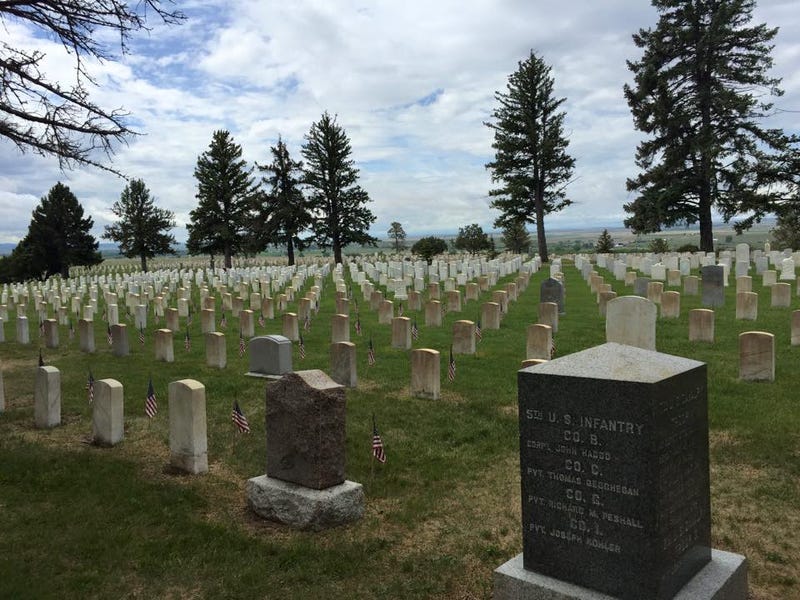 I arrived in Buffalo around 2pm and headed right for the shop where Eric's package was being delivered. He was the waiting for it to arrive. The package and the new carb diaphragm arrived around 3pm. We took apart the carb (with the help of a YouTube video) in the parking lot and Eric had it back together and compete by 4pm. After a quick test ride, he gave me the green light and we headed out for Devils Tower, WY. We had a beautiful 2.5 hour ride. The pronghorn are abundant along the highways in the afternoon. Such a beautiful animal. The twisted roads that leads to Devils Tower are a great time. We picked out a campsite and then I headed to town for supplies. Eric made a fire and generally took it easy. Beers and food and great riding marked the end of the day. Happy to be in the presence of such a unique geologic landmass as I go to sleep with light rain tapping the tent walls. I feel I made the right choice. Glacier is a beautiful and special place, but it is just a place. Eric is my friend.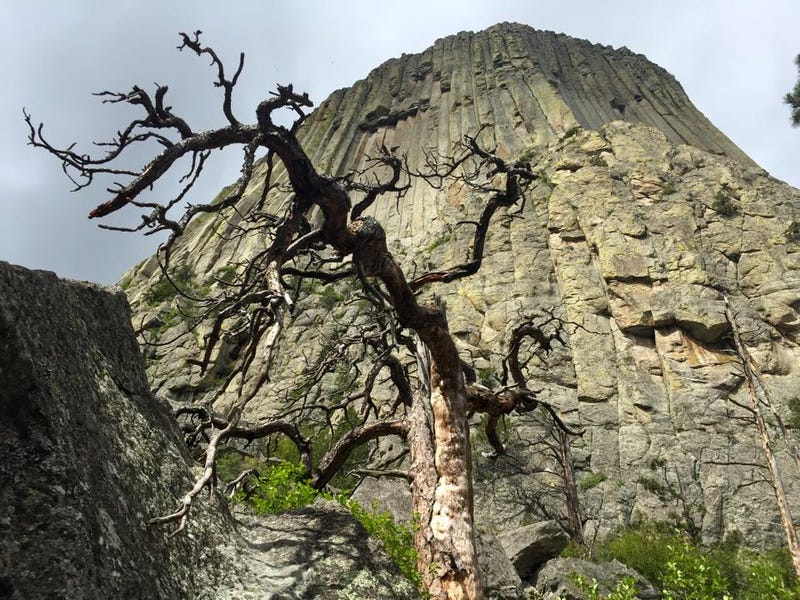 Day 6 – Stayed Put
We didn't make Glacier but that meant that we had more time to explore the other places on our list. It just didn't seem wise to go away from home after Eric's bike had run into problems. We got going early but quickly decided to do the 4 mile hike around the tower. You can see climbers working their way up the routes. We chose to stay another night and spent the afternoon relaxing and chatting under a communal shelter to stay out of the rain. Our neighbor offered us some fresh fruit and turned out to be a very cool man. Later that evening the three of us attended a small presentation on the history of climbing the tower. His name was Jerome. He was 74 years old and explored the country visiting friends and hiking parks out of his well outfitted Arctic Cat. Eric and I questioned him about its setup and capabilities. We are impressed. Meeting Jerome was a wonderful reminder about the good in people all over this country. He walked to visit us as his neighbors and gave us some fruit without seeking anything in return. The pain kindness and generosity of human spirit is inspiring and humbling.
Day 7 Devils Tower to Custer State Park
We said our goodbyes to Jerome over some hot coffee that he made us. We set out in the rain towards the Black Hills. We had a nice lunch in Deadwood and I saw the chair Wild Bill was shot in. We arrived at Custer State Park and got a campsite on Sylvan Lake. We hiked the lake route before sunset and also bought some hot dogs and buns for dinner.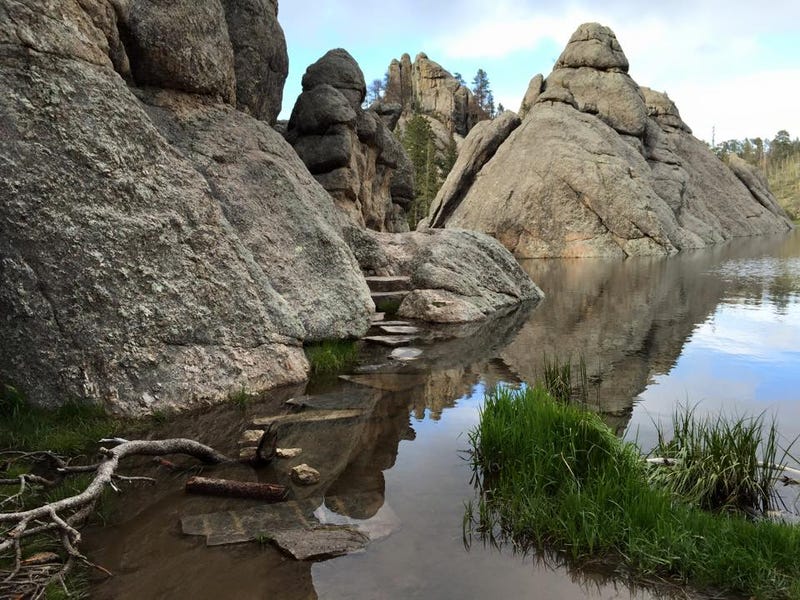 Everything here is wet so getting the fire going was a task but we eventually got it. Our campground was shared with some real off putting go-getter's who called themselves Brother Acorn and Brother Needle. There was also some couple who loud whispered to each other for about 20 minutes. We head it all. Weirdos. We turned in just after 11pm.

Day 8 Custer State Park to Custer, WY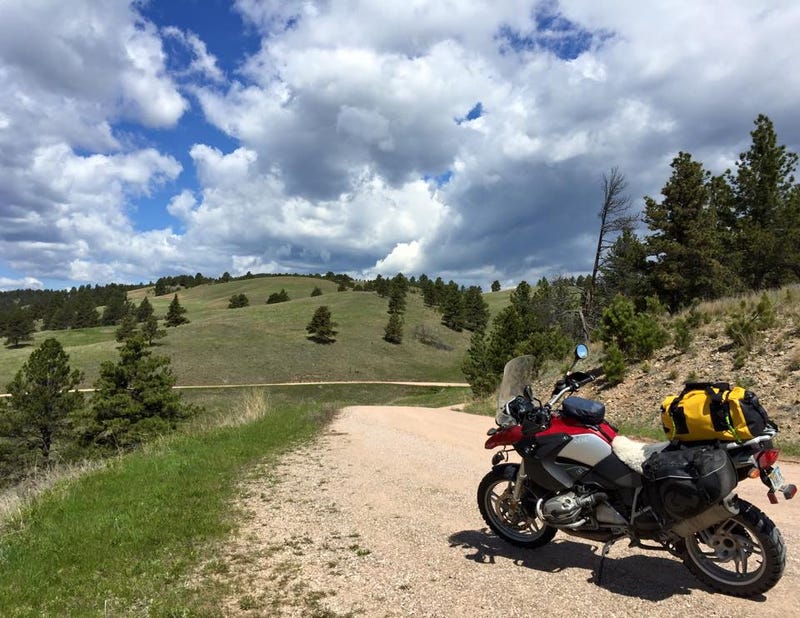 We get a leisurely start to the day but for a change we have a great weather and we take the time to dry out or cloths and tents on makeshift cloths lines. We hike to the top of Haney Peak. This is a challenging hike with our limited exposure to altitude. But we manage it in just over three hours including lunch. The Black Hills offer great views and access to wilderness but the trail is crowded and the animals are scarce. After the hike we are tired and sun burnt. I swim in the ice cold Sylvan Lake while Eric goes calf deep. We pack up and head to Custer to have dinner with the Mayor. Eric's relatives happen to be the Mayor, Gary and Pam. Very sweet people and we stay at their house that night after a fine pizza dinner.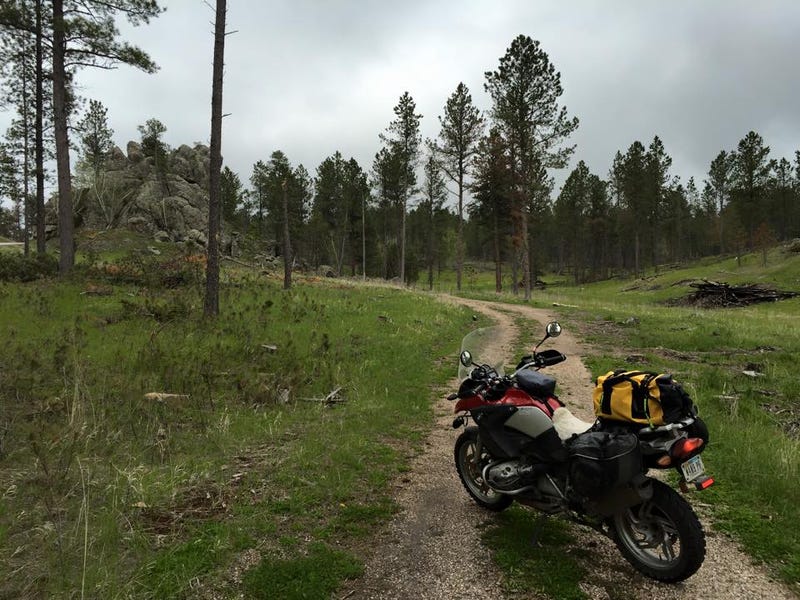 Day 9 Custer, WY to Badlands NP
We depart Custer after some routine oil and shakedown tests. We head back to the park to ride the wildlife loop. We see a great number of buffalo with many newborn calves by their sides just off the road.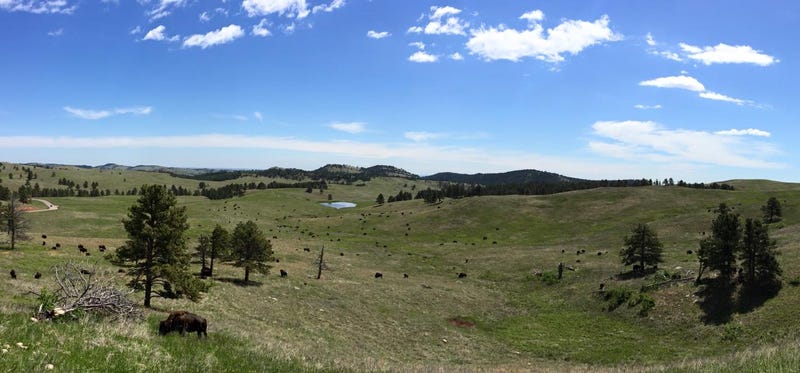 We meet an old man cyclist who tells about the area and gives us some "magic" or shed buffalo fur as a gift for safe travels. A sweet man who really seemed to know what made himself happy. We pull into Badlands and set up camp. We eat Sioux Tacos at the visitors center. Very good. We do a short hike to take in the sunset.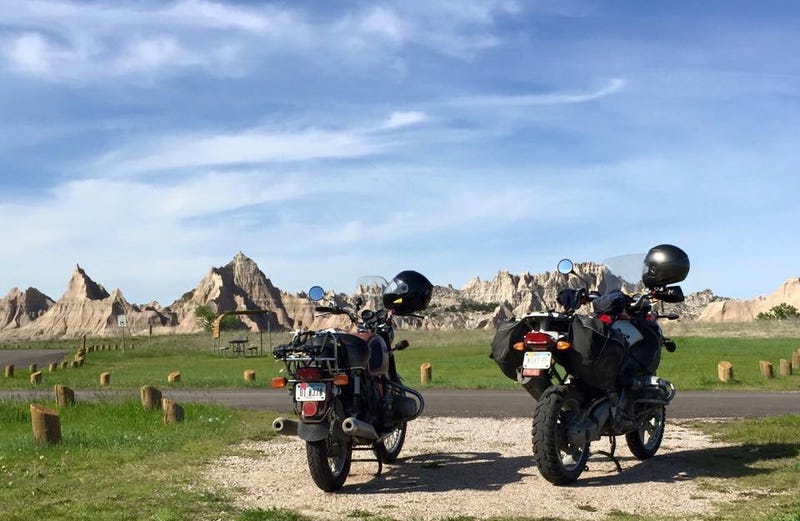 The Badlands deliver. Just as we are leaving the trail a small herd of rams scope us from the ridge. A beautiful sight.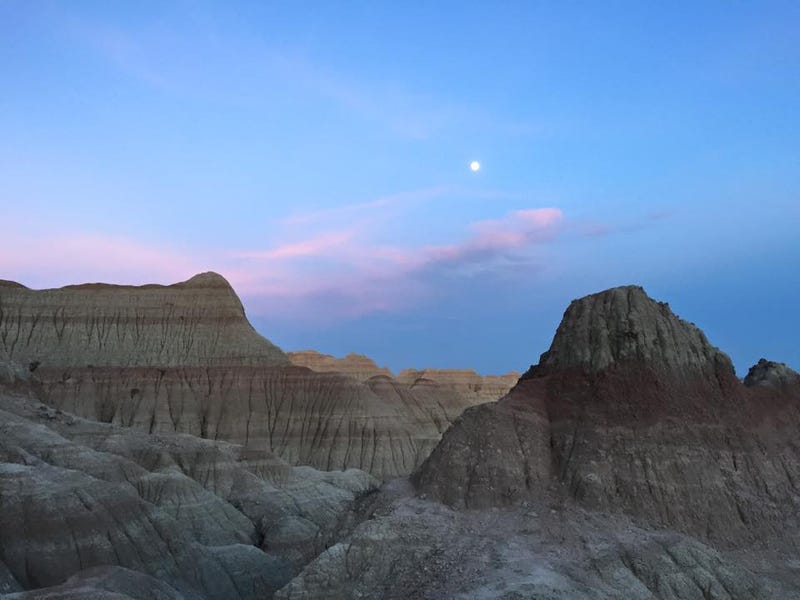 Day 10 Badlands NP to Stone State Park
We speak to some great German folks from Vancouver about being on the road. They are riding from British Columbia to Maryland and back in three weeks on vacation. Cool people with many funny expressions. We ride out for Sioux City. This is our toughest day of rising yet. We have hit downpours and hail but today's crosswind was the real beating. Just relentless and tiring. We stopped for lunch and realized how much extra gas we were using due to the fierce winds. The bikes are working hard and Eric again begins to have trouble starting his bike. I have to bump start him three times today but we press on to Stone State Park after taking some side roads to try and get out of the wind a bit. We arrive and set up camp and drift off to sleep after a light dinner and a few beers.
Day 11 – Stone State Park to Fairfield, IA
We avoid the interstate as much as possible as the winds is still ripping. A pretty normal ride home. Winds bite a little but mostly smooth sailing. We pull back into safe harbor having learned a great deal about bike maintenance, the importance of the choices you make, and an increased understanding of adventure. The adventure's of your dreams are not always the trip you get, but what would be the adventure in knowing exactly what would happen. Glacier alludes us still but I would take this trip again in a heartbeat. The experiences you have and the things you learn cannot be gained any other way.
https://dirtorcas.com/wp-content/uploads/2016/07/IMG_6748-1-e1470067867114.jpg
248
330
Dirt Orcas
https://dirtorcas.com/wp-content/uploads/2016/07/dirt-orca-logo-150-white.png
Dirt Orcas
2016-08-01 16:11:28
2017-02-27 16:27:35
Westbound – Spring 2015