Planning Your Adventure – A reference guide
Trip planning is unique to each individual. You should really make it our own, but here are a few helpful tips on how to plan your next adventure ride.
First, decide on a destination. You'll need inspiration. I hear a story or see a photo and I store it away in my mind. I do some basic research on the place and what kind of highlights the area has to offer.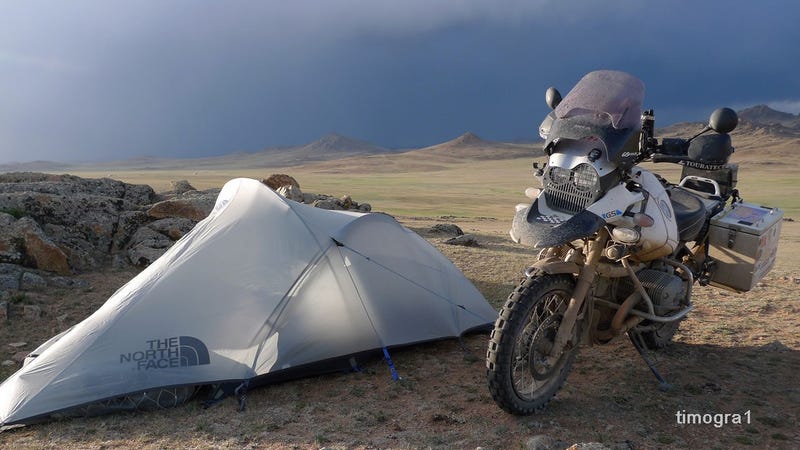 Then you do a rough outline for how many days you will need to effectively reach this destination. Next you do a quick weather check. Does your schedule agree with the destinations conditions? Motorcycle trips are awesome, even in the rain, but they are much better with great weather. Other factors I often look at are animal migrations and tourist seasons. I like to catch one and avoid the other.
Your overall destination may be a loop and not an out and back but many of these concepts still apply. Once my plan for the trip is established, I start to research the other things to do and see along the way. It's nice to take in all the trip has to offer. If your goal is to ride from Chicago to Rocky Mountain National Park, you may want to blast through Iowa and Nebraska, but keep in mind visiting a place like The field of Dreams may not add much time to your trip.
I turn to google maps. I do a basic route map and then I see the most likely places to stay along the way. Then I try and find the best places to stay and see.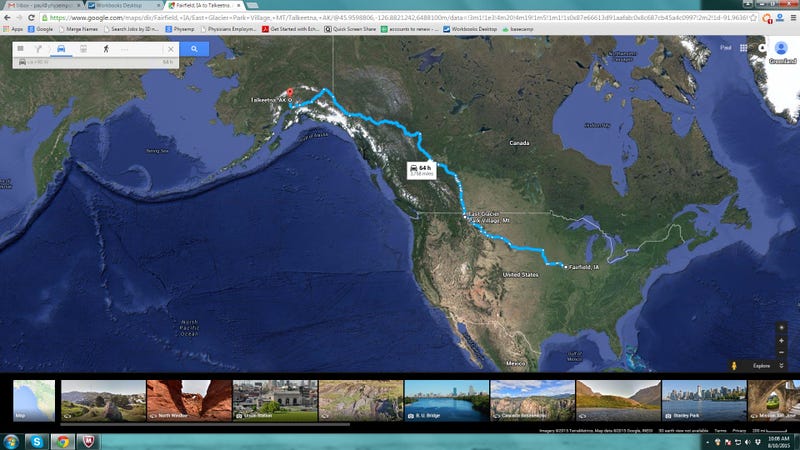 Once I have mapped out a route and figured out how many days or travel I will have, I start to build in a time schedule and a few break days. This is also when you start finding things your want to do or see on the trip. Motorcycle time is like a vortex. Especially when traveling in a group. If you plan to do a two hour hike don't think you will get to the trailhead and be back on the bike in two hours. Give yourself a half day. Break days are important for several reasons. One, the cumulative fatigue of a week long ride can sneak up on you and it's good to just give yourself an opportunity to recover. Second and more importantly is that things tend to go wrong. Mechanical issues or illness can set you back a day. If your schedule depends on perfectly arriving at each place on the day you planned, get ready for disappointments. But if you build in break days, you can always make up that time and get back on schedule.
I find that for everyday you want to be on the road it takes that many weeks to plan your trip. Going on a fourteen day trip doesn't have to take you fourteen weeks but it doesn't hurt to get started early. Campsites book up and things happen that could distract you from properly going over the details of your journey. Obviously you can plan a trip faster but if you give yourself the time to plan you can let ideas marinate and really think everything through.
If you have a general idea of a destination for each day, it may be wise to call the campground or hotel in advance to see if there are reservations for any particular events. One year I planned to stay just outside Omaha on my way to Moab and I arrived to find that there where no campgrounds or hotel rooms available in the entire city because of the College World Series. This also happened to be tornado season so cowboy camping was also out. I personally like to reserve ahead of time for peace of mind and it gives you a goal for the day. Though it's important not to be too tied to that place and remember that you are on the road to enjoy and not just make good time. It's OK to let $15 for a campsite go for the good of the group or your own safety.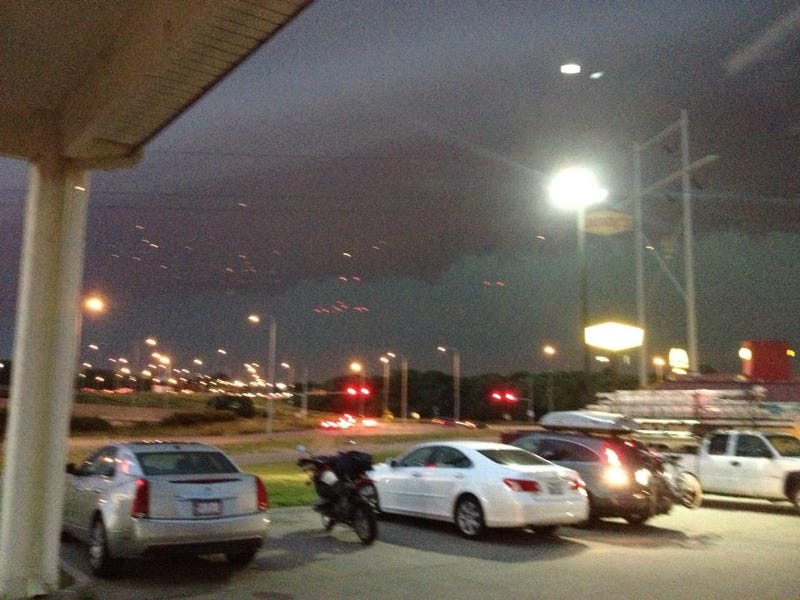 Once you have your route planned it's time to start evaluating your gear. What kind of camping setup will you need. I keep my kit pretty consistent weather I'm in Arizona or Minnesota but you may want to alter your approach for different places. Weather is the biggest factor here. You may need to carry more water or more rain gear depending on your needs.
Here is a packing list I use before I leave on any trip of a week or longer. Anything longer than a week wouldn't really change much you just need to resupply food and water as necessary.
Bike Trip Gear Checklist
On Bike (under the seat)
– tool kit, registration card, insurance card, and fuzzy seat
In Jacket Pockets
– wallet, multi-tool, lip balm, Iphone, headphones/ear plugs, and a handkerchief
Tank bag
– tire/tube repair kit, tire gauge, phone charger/Powerlet, mini first aid kit, helmet screen cleaner, small flashlight, Alan wrench set, wire spool, and a few zip lock bags.
Left Side Bag
– sleeping bag, sleeping pad, spare 40oz water bottle, buck folding knife, cooler bag for keeping beer cold at camp, additional straps/ tie downs, headlamp, and 50 ft of para cord (great for everything).
Right Side Bag
– camp stove/fuel (add lighter/matches), cooking cup / spork, tow strap, jumper cables, waterproof motorcycle suit liners, 1tr extra engine oil, and bug spray.
Top Dry Bag
– tent, running shoes, spare cloths (in Blue dry bag), 3 t-shirts, 1 pullover, 3 boxers, shorts, pants, 3 socks (2 wool/1 sport), camp towel, toiletries, and food (2 camp meals).
There is a method to this packing madness. Emergency supplies are located on the bikes right side so you can stay safe if pulled over on the roadside. The stuff you will use only at camp is in the top bag to you do not have to undo your tie downs but once a day. The easiest things to get at are in the tank bag. The stuff you need all the time weather you are with the bike or not are in your jacket pockets.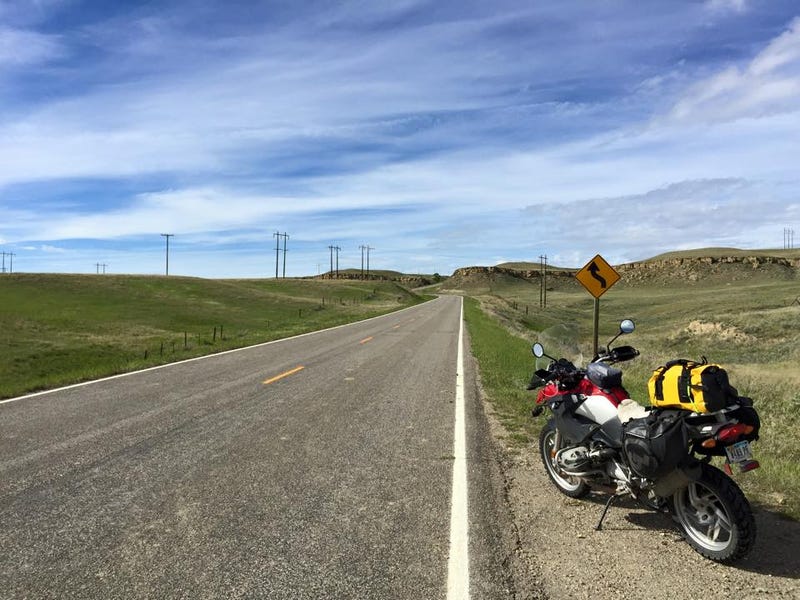 You'll notice from this list I do not carry much in the way of food or cloths. I have found through experience that it's better to address food daily as you can't be sure when you'll want to eat. Everybody knows that eating lunch at a restaurant is preferred while on the road so you do not have to unpack, but I like hot coffee in the morning and a campfire meal at night. You are never too far from resupplying groceries or beer at the end of each day at a grocery or Walmart. Keep your riding weight down and your packing to a minimum. Of course for more remote rides you'll have to plan accordingly for food and water.
Budgeting your trip is another important aspect. You can get a rough idea for the cost of each trip by asking yourself these three questions. How much will I spend on gas? How much will I spend on lodging? How much will I spend on food and drink?
Gas is easy. Number of miles you plan to travel, divided by your bikes mpg (this gives you an idea of how many gallons you will use) Then multiply that by the estimated price of gas. Then you have your total amount for the trip. (1000miles / 62 MPG = 16.13 gallons x $3.20 = $51.61). Then I like to add 10% to account for an increase in gas prices or unforeseen riding.
Lodging can be determined easily. Most campgrounds will have the cost posted online and if you book in advance you will know your cost upfront, but I also always add $100 in case an emergency stay at a hotel becomes vital.
I typically budget $30/ day for food and drink. This assumes that I am eating two meals a day at a restaurant and one cup of joe in the morning. It also adds a little extra for beers at night.
Emergency fund. Even if I'm only planning a two night trip I like to have a $1000 reserve fund or credit card available. This is not money I plan on spending on the trip but in case you have a breakdown or plans change its good to have available.
I hope this write up is useful. I have planned many trips for groups over the years. Each trip is obviously different from another but many things stay the same. This article aims to simplify those consistent things. Planning is often a huge part of the fun of a trip. It keeps you excited for far longer than your actual trip. Enjoy!
https://dirtorcas.com/wp-content/uploads/2016/07/FullSizeRender-3.jpg
1476
3140
Dirt Orcas
https://dirtorcas.com/wp-content/uploads/2016/07/dirt-orca-logo-150-white.png
Dirt Orcas
2016-07-02 18:55:31
2017-02-27 16:29:19
Planning Your Adventure – A reference guide